This section is for our beloved clientele to leave notes regarding their satisfaction or dislikes about our services. Want to review us? Send us an email with with your name, venue name, city of where your event took place, and a picture to
allseasonseventrentals@yahoo.com
. We would love to hear from you!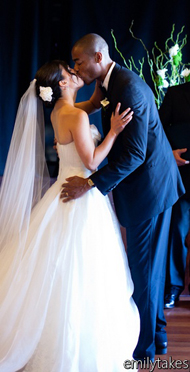 "We originally found All Seasons Event Rentals when we were looking to rent chairs for our wedding ceremony. We were attracted to them mainly because they offered the same chair models as other place but for a much better price. While browsing the website, we noticed that they also offer 'day-of' coordination services. We were originally going to go without a planner, since we hadn't included it in the budget, but upon inquiry found out that Karla's rates were really reasonable compared to other planning services. We decided to hire her as well as rent chairs from her for our wedding. BOY am I glad we did!!! "Day-of services" is a huge understatement. Over a month before the wedding she was contacting all our vendors, creating a timeline, and thinking of details that never would have occurred to me. There was a lot of communication and planning going on behind the scenes that I wasn't even aware of because she handled it so smoothly. Also, she is a super-fast e-mail responder, no matter what time of day you write her. Even now, a month after the event, people are telling me how she very discreetly handled crying babies and straggling guests that I didn't even notice. A friend who was at the wedding said to me "she was worth her weight in gold". I have no question that the day would have been one million times more stressful if we hadn't hired her. We were able to relax and enjoy our wedding knowing that everything was in good hands. As for the chairs, all I know is they were there and looked great when we got married! Very smooth operation since I didn't hear about them at all. I highly recommend Karla for your planning needs!"
--Nicole B.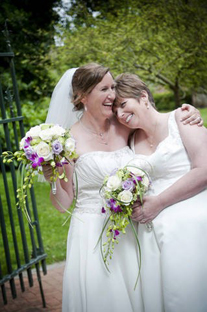 "Our wedding in San Francisco was nothing short of perfect thanks to Karla's amazing efforts. The ceremony was at Shakespeare Gardens in Golden Gate Park. We first worked with Karla when we rented chairs from her other business, All Seasons Event Rentals. Karla gave us good suggestions about type and and arrangement of chairs. We were so pleased with Karla's professionalism, we decided to contract with her for Day of Event Coordination. When Kar, a worked with us, we felt as if we were her only clients. She referred us to a fantastic baker, florist, and caterer. Our guests were impressed with these vendors, and were very surprised to find out how reasonable their services were. Karla handled all of the details and all of our guests so that we could enjoy our wedding day. Our memories will always include Karla, knowing that her efforts made the event perfect!"
--Nicole & Karen
"After browsing the web and looking at all of the rental companies, All Seasons Event Rentals stood out as having reasonable prices and good reviews. We were so pleased with both Karla and the delivery people. The deliveries at Shakespeare Garden and our reception (at a private home) were on time, thorough, and courteous. The chair set up was perfect for our intimate wedding. Karla was able to provide everything we needed for the reception as well. She helped us make realistic estimates and think through what we had not planned. The personal attention was exceptional!"
--Nicole M.
"I rented chairs from them for our wedding, and their service was amazing at an affordable price.They were quick in responding by both phone and email, and didn't mind that I changed my order a few times. The delivery guys arrived on time and worked very quickly to assemble everything, and they were so quiet and professional I barely noticed when they came back to take everything away after the ceremony."
--Anna C.
"My daughter's wedding was yesterday. All Seasons Event Rentals were fantastic! I'm very picky and have high expectations when I hire someone like this. Karla was responsive and professional. Her crew was amazing. At the last minute I added a rehearsal dinner at my house the day before the wedding. Karla took it in stride. They showed up on time and did a fabulous job. I highly recommend All Seasons Event Rentals."
--Great B.
"Karla and the All Seasons team were so helpful! We held our ceremony under the Palace of Fine Arts Rotunda, where you have to set up and break down everything yourself--within your allotted window of time. The All Seasons team was punctual, organized and delivered exactly what we ordered--chairs, a banquet table with cloth, champagne flutes and ice buckets, all for a reasonable price (I shopped around!). I highly recommend them for your bay area wedding or event."
--Rhoda M.
"All Season's Event Rentals, proved to be better than any other rental companies we looked into for our wedding ceremony. They delivered our wedding ceremony chairs on time, set them up, and were there immediately after our event to take them down. We communicated over a 6-7 month period with Karla from All Season's Event Rentals and it was comforting to know she was an email away to answer our questions and make changes when we asked. Thanks so much All Season's Event Rentals!! I would recommend you any day!"
--Annick & Scott
"My wife and I got married on 8/9/2008 at the Fairmont in San Francisco. Karla and All Seasons Event Rentals did a fantastic job in providing and setting up our Chivari Chairs.
The chairs looked beautiful at our reception tables and were in great condition. Karla and her staff were very professional, punctual, and provided us with everything we agreed upon. Also, Karla always responded back to my emails right away and was very impressed by her commitment to making sure everything turned out perfectly. We highly recommend All Seasons Event Rentals if you are looking for beautiful chairs and excellent service."
--Bo & Sheava
"I would recommend "All Seasons Event Rentals" to any bride. When I first emailed for the best price on Chivari chairs and tablecloths a week before the wedding, I received a response the next day. Not only did they respond quickly and agree to delivering chairs at the last minute, they also gave me the best deal of all the other vendors. When I told them that my reception place needed the chairs at a certain time, they bent over backwards to accommodate the specific request. Everything went smoothly and the chairs and tablecloths were beautiful and in good condition. This was one less stress I had to worry about during the wedding planning because they assured me they would be on time to deliver and pick up. The delivery charge was very reasonable also. I would gladly use All Seasons Event Rentals again. Thank you for making my special day perfect!"
--Lynda